INFORMATION TECHNOLOGY
Get hands-on knowledge to adapt working in global environment and engage in new ideas and new thinking.
BUSINESS
Gain generic and specific management and pragmatic technical skills appropriate to their global business and services field to meet their leadership aspirations.
HOSPITALITY
Learn comprehensive skills and knowledge in technical and vocational disciplines for the hospitality industry.
SPECIAL NEEDS PROGRAM
The Skill Certificate of Proficiency (SCP) is a special programme to facilitate the learning skills for "Special Needs" students. 
PROFESSIONAL EXCELLENCE
The School for Professional Excellence (SPE) offers high quality short courses and training programmes for self-enrichment and the professional development of the workforce from the public and private sectors.
CULINARY ARTS
Get contemporary skills and techniques through hands-on training / skill based and classroom learning.
We pride ourselves on consistently producing well-rounded and competent young adults.
Enrolling at BERJAYA TVET College offers students a unique opportunity to prepare themselves for their future careers in a manner that is unlike any other. Due to our rich heritage as a business conglomerate and in entrepreneurship, we clearly understand what it takes to enable our students to excel as young professionals. In other words, our training will increase their employability in the global marketplace, as evidenced by our interns being offered employment even before they graduate.
Through our strong global and local industry networks initiated by our different Centre's, BERJAYA TVET College students are uniquely exposed to the marketplace that they are being prepped for, at our city campus. At BERJAYA TVET College, we pride ourselves on consistently producing well-rounded and competent young adults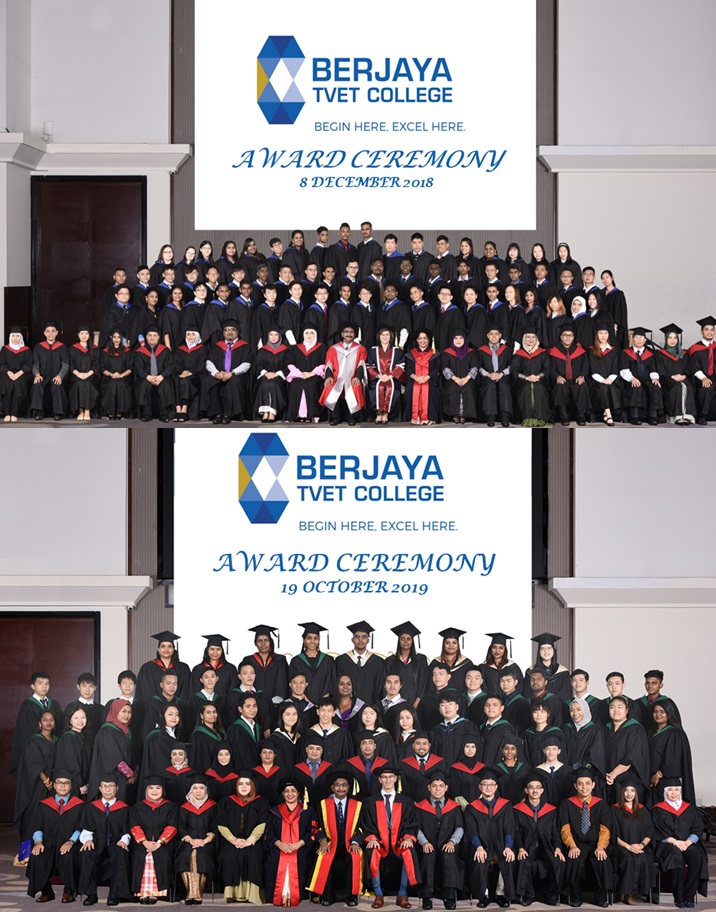 EVERYTHING YOU NEED IN ONE PLACE
BERJAYA TVET College is a private Technical and Vocational Education and Training (TVET) College focusing on practical-oriented effective learning for students and its quality of teaching and learning is assured.  We prioritise success and tenacity in preparing you for a flourishing career in the Information Technology, Business Information Systems, Computing, Business Management, Hospitality and Culinary. Discover your passion and be prepared for a life of endless possibilities. It all BEGINS here at BERJAYA TVET College. And you EXCEL here.